Music
HighNote Records
Mary Stallings
Feelin' Good
" Mary Stallings does not dwell on nostalgia, but rather continues to look-forward as a self-assured and sincere singer."
– Audiophile Audition
Writing about Mary Stallings The New York Times declared that "perhaps the best jazz singer singing today is a woman almost everybody seems to have missed." Bay Area jazz lovers chuckled ruefully over yet another blast of East Coast parochialism, long recognizing Ms. Stallings as a singular jazz treasure. Her talents were also recognized by the likes of Dizzy Gillespie, Billy Eckstine, Count Basie, Cal Tjader, Ben Webster and Wes Montgomery, who all went out of their way to showcase this supremely soulful singer. For her latest HighNote outing, Bruce Barth occupies the piano bench and handles the arranging duties with Peter Washington and Kenny Washington rounding out the rhythm section. Mary herself requested the added tone color of Steve Nelson's vibes, Freddie Hendrix's trumpet and the latin percussion of the irrepressible Ray Mantilla. So here again is Mary Stallings, enjoying her recording resurgence, singing with such confidence, poise and authority that every tune feels like a custom-tailored garment expertly made for her fine-grained tone, relaxed phrasing and supple sense of swing.
MARY STALLINGS, vocals
Featuring: Bruce Barth, piano • Steve Nelson, vibes • Freddie Hendrix, trumpet • Ray Mantilla, percussion • Peter Washington, bass • Kenny Washington, drums
TRACKS: Close Your Eyes • Try a Little Tenderness introducing Girl Talk • Li'l Darling • I Want to Talk About You • Feeling Good • Reflections • Night in Tunisia • Monk's Dream • Afro Blue • You Send Me • Yesterdays
HighNote HCD 7250
Mary Stallings
But Beautiful
" She is a wizard of long tone which uses to laser into deep emotional zones …"
– The New York Times
Mary Stallings enchants audiences around the world with her divine musicality, elegant stage presence, and a voice that is, according to the San Francisco Chronicle, "supple and timeless, encompassing the whole history of music." The New York Times says she's "perhaps the best jazz singer alive today" and her 2013 HighNote recording offers ample proof. With the supremely gifted pianist, composer, arranger Eric Reed as Music Director, Mary offers ten tunes which show the full range of her considerable talents.
MARY STALLINGS, vocals
Featuring: Eric Reed, piano • Wesley Anderson, drums • Brian Clancy, tenor saxophone • Mike Gurrola, bass • Danny Janklow, alto saxophone
TRACKS: Dedicated to You • Just a Gigolo • Some Other Spring • But Beautiful • The Lamp is Low • Time on My Hands • Autumn in New York • I Didn't Know What Time It Was • You Don't Know What Love Is • I Thought About You (3:13)
HighNote HCD 7224
Mary Stallings
Don't Look Back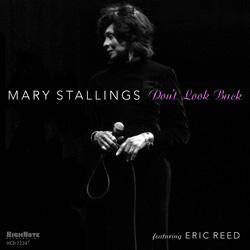 "Perhaps the best jazz singer singing today …"
– The New York Times
Recorded fresh from a series of performances at New York's prestigious venue Dizzy's Club Coca-Cola, Mary Stallings' latest HighNote title places her firmly in the pantheon of great female jazz singers of this, or any other time. So respected is her art and musicianship, Mary was chosen to be the first jazz performer to ever appear at the venerable and heretofore classical-only National Theater in Prague. A singular honor, to be sure and the latest in a series of awards and distinctions that Stallings has been gathering since her first HighNote release in 2010. Since then Mary has appeared several times at Dizzy's, was the honoree at the 2011 SF Jazz Gala — the groundbreaking ceremony for the only stand-alone jazz venue in America — the Tanglewood Jazz Festival in Lenox, MA as well as countless jazz clubs and rooms on both coasts. Here, together with music director and pianist Eric Reed, Mary lends her sultry and swinging voice to a dozen selections and shows why she is no longer jazz's best-kept secret.
MARY STALLINGS, vocals
Featuring: Eric Reed, piano • Reuben Rogers, bass • Carl Allen, drums
TRACKS: When Lights Are Low • The Way You Love Me • Night Mist Blues • Goodbye Medley • Is That? (This Love) • Don't Look Back • Love Me or Leave Me • Don't Misunderstand • Key Largo • Soul Eyes • Mary's Blues • People Time (Forever Mine)
REVIEWS:
HighNote HCD 7212
Mary Stallings
Dream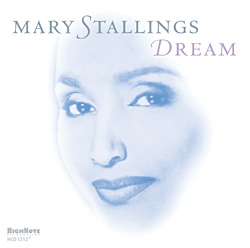 Passionate, robust singers with the sensitivity of a Carmen McRae and the sass of a Dinah Washington aren't exactly thick on the ground these days which is what makes Mary Stallings' return to the studios a cause for rejoicing. Her voice is, at once, contemporary and timeless, encompassing the entire history of jazz vocals. For her HighNote debut, Mary Stallings, a former colleague of Cal Tjader, Dizzy Gillespie, Count Basie and others sails through a program of standards and obscurities with elegance and ease, her slightly blues-tinged phrasings beautifully supported by pianist and arranger Eric Reed.
Mary Stallings, vocals. Eric Reed, Piano & Arrangements. With: Hamilton Price, bass; Ralph Penland, drums. Adriana Evans & Mary Stallings, vocal duet on "Never Knew"
TRACKS: Close Enough for Love; That Old Black Magic; Moon Ray; Never Knew; A Weaver of Dreams; Mad About the Boy; Dream Dancing; Hey Now; Watching You Watching Me; Before You Know It; A Timeless Place (The Peacocks)
REVIEWS: